GENIUS POMEGRANATE SHAMPOO
We love our dogs; they come with us everywhere.
We designed our all-natural shampoo, Genius Pomegranate, so your dog is always ready for your next shared adventure whether it's a day at the beach or at the latest art opening. You'll appreciate how well our soap-free, plant-based formula gently but deeply cleans your dog's skin and coat after a full day of play. (We don't use soap in our shampoo because it can strip out essential oils from your dog's skin.) Botanicals like argan oil and jojoba offer rich moisture so you can quickly brush your dog to a healthy shine. Our fragrance will captivate you with sweet pomegranate and floral notes – your dog will be the center of any gathering of friends.
Corral your dog* into the tub & wet their coat completely. (Keep ears dry with cotton balls.)
Squeeze a generous amount of shampoo along their back and lather. (Avoid their eyes & nose.)
Our toxin-free, soap-free formula means less foamy suds – add more water for more bubbles.
Rinse thoroughly and towel/blow dry.
*

Safe for dogs over 8 weeks. (Don't use on cats.)
Flea-treatment compatible.
Purified water, renewable coconut-based cleanser, polysorbate (an emulsifier), olive oil squalene (a preservative & emollient), aloe vera, xanthan gum (for thickness), and our signature blend of essentials oils & plant-based conditioners.
No phosphates, parabens, phthalates, DEA, sulfates, synthetic dyes or fragrances.
Our all-natural formula contains essential oils & botanicals. If you have skin sensitivities, we suggest you test on a small area of your skin before using your hands to massage into your dog's coat.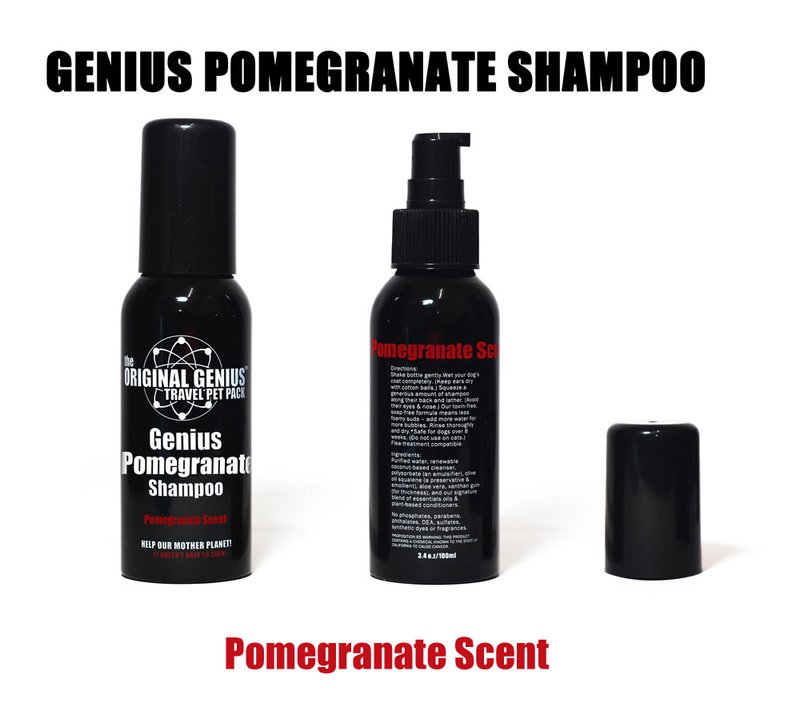 MADE IN THE USA
PLEASE RECYCLE/REUSE
PROPOSITION 65 WARNING: THIS PRODUCT CONTAINS A CHEMICAL KNOWN TO THE STATE OF CALIFORNIA TO CAUSE CANCER.
Reviews