GENIUS ORANGE SPRAY
We love our dogs; they come with us everywhere.
We created our all-natural grooming spray, "Genius Orange," so your dog (and home) will smell fresh between baths. Our unique blend of high-quality essential oils leave a rich scent with top notes of rare Israeli orange oil and hints of rose, jasmine and myrrh so your dog will be welcome in any gathering. And eco-friendly plant-based conditioners make it easy to brush your dog to a healthy shine.
Mist your dog's coat lightly, avoiding their eyes & nose.
Massage into their coat & brush through.
Purified water & our proprietary blend of essential oils and plant-based conditioners.
No alcohol, phosphates, parabens, phthalates, DEA, sulfates, synthetic dyes or fragrances.
Our all-natural formula contains essential oils & botanicals. If you have skin sensitivities, we suggest you test on a small area of your skin before using your hands to massage into your dog's coat.
*

Safe for dogs over 8 weeks. (Don't use on cats.)
Flea-treatment compatible.
3.4 OZ / 100 mL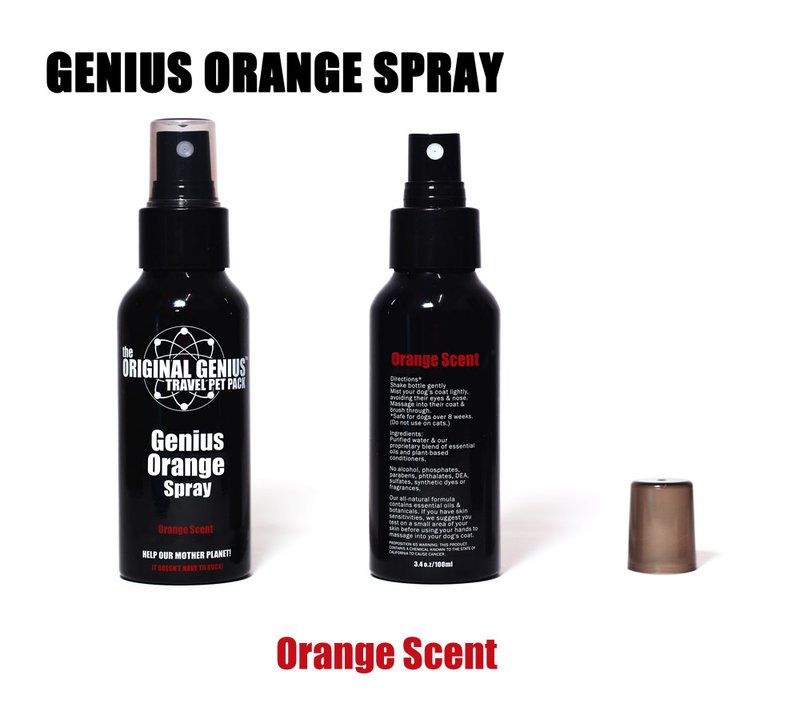 MADE IN THE USA
PLEASE RECYCLE/REUSE
PROPOSITION 65 WARNING: THIS PRODUCT CONTAINS A CHEMICAL KNOWN TO THE STATE OF CALIFORNIA TO CAUSE CANCER.
Reviews