GENIUS ANTI-ITCH SPRAY
We love our dogs; they come with us everywhere.
New environments can sometimes cause itchy, irritated skin for your dog so you'll want to have our Genius Anti-Itch spray on hand. Rich botanicals offer conditioning moisture so you can quickly brush your dog to a healthy shine. Our proprietary blend of colloidal oatmeal and essential oils, including eucalyptus, marshmallow root, and tea tree oil can soothe irritated skin and calm hot spots. The scent profile is light and clean - just right for snuggling. (Consult your vet about any long-term rashes or hot spots.)
Mist your dog's coat lightly, avoiding their eyes & nose.
Massage into their coat & brush through.
Purified water & our proprietary blend of essential oils and plant-based conditioners.
No alcohol, phosphates, parabens, phthalates, DEA, sulfates, synthetic dyes or fragrances.
Our all-natural formula contains essential oils & botanicals. If you have skin sensitivities, we suggest you test on a small area of your skin before using your hands to massage into your dog's coat.
*

Safe for dogs over 8 weeks. (Don't use on cats.)
Flea-treatment compatible.
3.4 OZ / 100 mL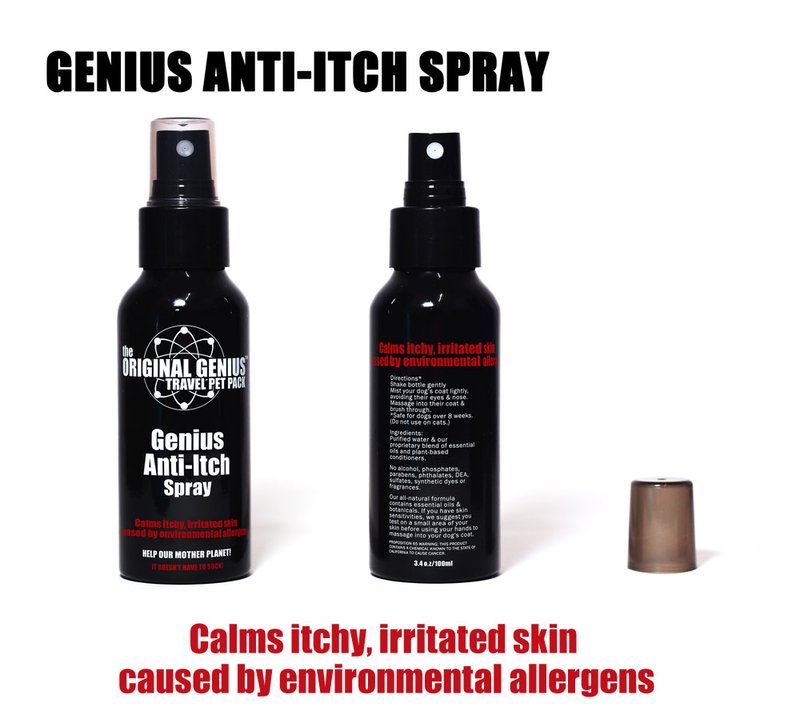 MADE IN THE USA
PLEASE RECYCLE/REUSE
PROPOSITION 65 WARNING: THIS PRODUCT CONTAINS A CHEMICAL KNOWN TO THE STATE OF CALIFORNIA TO CAUSE CANCER.
Reviews